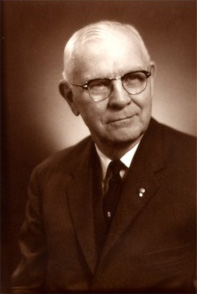 Steck Medical Group has been serving the greater Lewis County area for nearly 100 years.  The clinic had its beginnings in the home of Lester Steck, M.D. in 1927.  In order to be more available to his patients, Dr. Steck decided to convert a space in his home on North Market Blvd in Chehalis, WA into a patient examination area.  Like most physicians back then, he made house calls as well; but Dr. Steck found he was better able to see more patients before they became seriously ill by having a home office where they could visit him.  He also found that by inviting patients to his home for treatment, he was able to be integrated into the community, thus building a trusting doctor-patient relationship.
Dr. Steck's medical training included studies in preventative medicine, which was very unusual for that time-period. He tried to impart healthful living knowledge to his patients in hopes they would not need to visit a doctor so often.
This approach was effective, and Dr. Steck's clinic became successful, growing to include additional practitioners serving the rural Lewis County area.  The group expanded and moved to a small building in downtown Chehalis. Dr. Steck drew heavily on collegiate institutions such as Loma Linda Medical School for recruiting physicians as they taught healthful living practices and educated many fine general practioners.
Among Dr. Steck's notable physician recruits were Dr. A. R. Twiss, who is still often remembered and mentioned by patients coming to the clinic today, and Dr. S. D. Karmy, F.A.C.S., who joined the group after gaining notoriety opening hospitals in places such as Benghazi and Baghdad. Some of Dr. Steck's physicians went on to have world renowned medical careers after serving the local community.  Dr. Ward Mouchon went to the Mayo Clinic and became a well-known orthopedic surgeon, and Dr. Moulleurus Couperus became an internationally known dermatologist among others.
The clinic formally changed its name to L.G. Steck Memorial Clinic after Dr. Steck died in 1971.  As a group they continued to grow, finding better and more inventive ways to serve the community they loved. In 1975, the success of the practice and the demographic need made expansion once again possible. Construction on the current clinic building began, with nearly 14,000 square feet on the ten-acre campus, Steck remains the largest medical clinic in the region.  In 1988, when most people had never heard of an Urgent Care Center, Steck opened the first one in the area.  Steck's Woodland Urgent Care was an instant success for the community, and continues to win local awards for "Best Urgent Care." Steck offers services such as an onsite laboratory and imaging 7 days a week.
Steck partner and Medical Director Dr. Harley Miller M.D. joined the growing practice in 1967, and has become the longest serving physician in the region.  Countless members of the community including many current Steck employees were delivered by Dr. Miller, who still sees a full patient panel.  He is known throughout the clinic and local area as being the "Dr. House" of the medical community. Dr. Miller takes the approach of looking at the whole patient when making a diagnosis, and he enjoys figuring out the difficult cases.  He is often consulted by other providers for his extensive knowledge of the "unusual and the interesting" in medicine.
To learn more about the excellent team of current providers, please view the providers profiles!